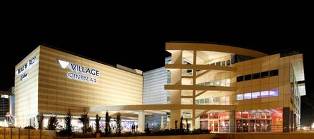 Address: Paleas Leoforos 1 Poseidonos & Moraitini 3, Delta P. Faliro, 175 61
Tel. Center: 801 100 9191 (from landline with local charge), 210 8108080
The new Village Faliro is located in Delta Faliro in a complex of buildings including cafes, restaurants, Media Markt and of course the new Village Cinemas & Bowling of Faliro. Access is easy, with tram and bus stops right outside of the new Village World Falero, and the comfort of a huge 1200-seat parking.
9 cinemas (1,901 seating capacity), including the impressive V-Max, the stylish Cinema Europa, featuring selected quality cinematic films with its own mini bar and coffee tables in the hall, the 2 GOLD CLASS halls with luxury foyer, exquisite menus and comfortable Lazy Boy armchairs, 1 Digital – Real D (1st) room, and 4 mainstream halls with the most comfortable seats.
All rooms feature state-of-the-art DTS (Digital Theater Sound) and large-screen displays. In addition, Halls 1, 6, 7, 8 and 9 feature Dolby Digital Surround – EX for perfect sound performance and superb audio clarity
Along with all of this, a brand new Movie Store with the widest variety of movie presents and the impressive Village Fun n 'Bowl, featuring 15 bowling lanes with state-of-the-art point counting system, 14 billiard tables, 12 Formula 1 emulators, Bowling Cafe, plasma screens all over the place and web cafe with 35 19-inch screens!